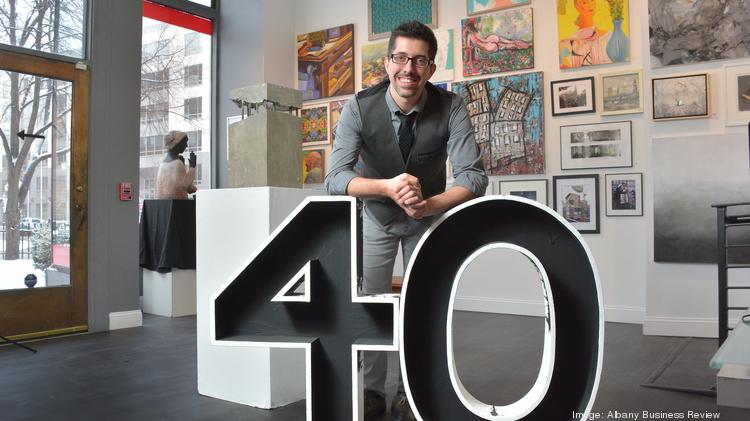 Tony Iadicicco is a central, dynamic part of the Capital Region arts community, and has served as Executive Director of Albany Center Gallery since April, 2012. He'll discuss the Gallery's four-decade-long history and its plans for the future at the Albany Roundtable luncheon on THURSDAY, March 9 at the National Register-listed University Club, 141 Washington Avenue at Dove Street in Albany. The meeting is open to the public.
Albany Center Gallery is a non-profit art space dedicated to exhibiting skillful contemporary art of the Mohawk Hudson region, and building a strong, knowledgeable audience for the visual arts. The gallery recently moved to a new location in Albany's historic Arcade Building at 488 Broadway. They are a community-based organization supported by city, state, corporate and foundation funds, as well as fundraisers, individual donations and memberships.
Tony was born into a military family and lived on a base in Germany before moving to Niskayuna. He received the Norman S. Rice Arts, Culture and Education Award from the Downtown Albany Business Improvement District in 2014; was named Best Local Artist by Capital Region Living Magazine in 2011; and was designated one of "Tomorrow's Masters Today" by the Albany Institute of History & Art and Art in 2010. Tony works tirelessly to connect people with the arts and promote the creative development of our next generation of leaders. "I paint to create beauty, working with colors to display movement, emotion, and balance," he said. "Painting, for me, is a release that allows me to share my experiences and perspective with others - it's my deepest and most satisfying form of expression."
The cost for the luncheon is $20, which may be paid at the door. The Roundtable also offers its guests the option of paying in advance with a credit card at www.albanyroundtable.com. The University Club will serve a hot and cold buffet from 12:00 noon to 1:00 p.m., with the program commencing at 12:30. Reservations for the March 9 luncheon are required by Tuesday, March 7 and may be made by prepaying online, by calling 518-431-1400 (the Capital Region Chamber of Commerce) or by sending an e-mail to albanyroundtable@yahoo.com.