Award will be presented at October 14 Luncheon
Group to be honored for providing "sustainable funding for the for the support and preservation of the not-for-profit arts community in Albany"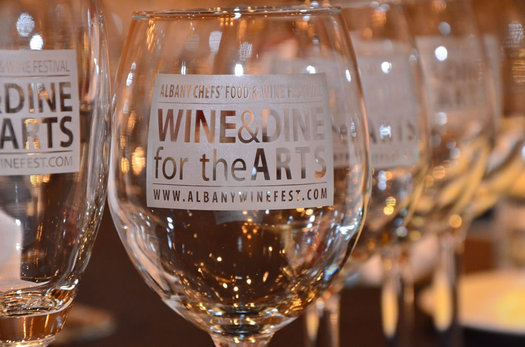 The Albany Roundtable has selected the
Albany Chefs' Food & Wine Festival: Wine & Dine for the Arts
, its founder Yono Purnomo and its organizers to receive its prestigious New Patroon Award for providing sustainable funding to the not-for-profit arts community in Albany. The award will be presented at the Albany Roundtable luncheon on Wednesday, October 14.
Since their inaugural event in 2010, the Albany Chefs have presented a 3-day food and wine-themed festival that promotes local restaurants, chefs, and their innovative cuisine; educates consumers on healthy, sustainable agriculture; and donates all net income directly to deserving non-profit arts organizations. In 2015, the group made a record-breaking donation of $127,927 and boosted their six-year total contributions to $534,656.
Chris Hawver, President of the Albany Roundtable, said, "According to Kaid Benfield, author of People Habitat and the Roundtable's visiting speaker in May, 2014, 'one of the indicators of a healthy community – the kind of place that is likely to be loved and endure – is good evidence of creative expression. Whether it's painting, photography, music, dance, sculpture, performance or something else, people like being around artists …' The Albany Chefs' Food & Wine Festival gives hundreds of people the chance to show their support for our city's beloved arts and cultural organizations. We are delighted to honor the organizers of this event with the New Patroon award."
The featured speaker for the October 14 luncheon is Jeff Mirel, Executive Vice President at The Rosenblum Companies and Board President of the Albany Barn. The Albany Barn, a creative arts incubator and community art center in Albany's Arbor Hill neighborhood, has been a recipient of funding through the Albany Chefs' Food & Wine Festival. "This is an incredibly exciting time for our region, and demographic trends favor the continuing revitalization of our urban centers," said Mirel. "But with that momentum comes hard questions about how we can remake the urban 'renewal' of the twentieth century, and align public, social, cultural, educational, industry and technology resources for more equitable, sustainable development."
The Albany Roundtable established its Good Patroon Award 1988 to celebrate outstanding contributions to the community by institutions and individuals. While the Good Patroon Award has traditionally honored organizations and individuals with a long record of service to the community, the Roundtable launched its New Patroon Award in 2011 to highlight and encourage the work of newer organizations.
The most recent Good Patroon Award winners include Historic Albany Foundation; Hon. John J. McEneny for his career in public service; Ruth Pelham and the Music Mobile; Amy Klein and Capital District Community Gardens; Maude Baum, Artistic Director of eba Dance Theatre; housing and social justice advocates Roger and Maria Markovics; and Christine M. Miles, Director of the Albany Institute of History and Art. Catherine Hedgeman and The Stakeholders, Inc. received the first New Patroon Award in 2011, followed by Jeff Mirel and The Albany Barn in 2012; and Edwards Grimes-Carrión and Grand Street Community Arts in 2013, and All Over Albany in 2014.
The October 14 Roundtable Luncheon begins at 12:00 noon and will be held at the National Register-listed University Club of Albany at 141 Washington Avenue. The luncheon is open to the public and the cost is $20, which may be paid at the door. The Roundtable also offers the option of paying in advance with a credit card at www.albanyroundtable.blogspot.com. The University Club will serve lunch from 12:00 noon to 1:00 p.m., with the program commencing at 12:30. Reservations are required by Tuesday, October 13 and may be made by
prepaying online
, by calling 518-431-1400 (the Albany Colonie Regional Chamber of Commerce) or by sending an e-mail to albanyroundtable@yahoo.com.
"When he died in 1839, Stephen Van Rensselaer III was remembered as 'The Good Patroon' for his benevolent attitude toward the residents of Rensselaerswyck," said Hawver. "The Good Patroon and New Patroon Awards are the Albany Roundtable's means of honoring those leaders who make our community a better place to live. We are so pleased to be able to present the Albany Chefs' Food & Wine Festival: Wine & Dine for the Arts, its founder Yono Purnomo and its organizers with this award."